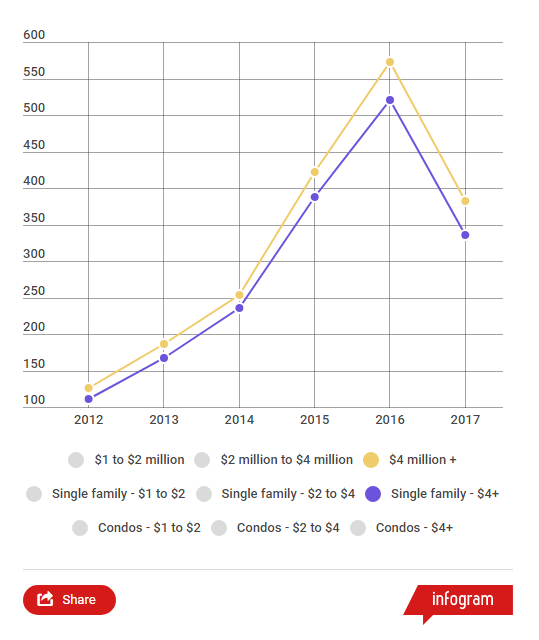 Sales of Vancouver homes that cost $4 million or more fell-by 33 percent, steeper than either of the other two price segments ($1 million-$2 million) and ($2 million -$4 million) in Vancouver, and more sharply than homes worth $4 million or more in Calgary, Toronto and Montreal. Here is why?
1. Global commercial real-estate participants keen to know the impact of Beijing's capital controls might not need to look much further than the cat-and mouse game that is being played in the residential markets for years.
2. 15% foreigner tax introduced on August 2, 2016, it has a big impact on Vancouver Luxury Property market. After this law came into force, many foreigner buyers were driven to Toronto and U.S. market.
3. The economy's impressive run has prompted another interest-rate hike from the Bank of Canada. Many major banks raised their own prime rate.
4. On February 1, 2018, the non-conforming Foreign Income Program is being replaced. Foreign Income can still used to qualify for non-insured lending, subject to full disclosure of all domestic and foreign assets by providing T1 general, CRA for, T1135-Foreign Income Verification Statement of showing their assets. Where a company's income is being used to qualify (Which many wealthy Chinese buyer fall in this category ), a copy of CRA Form T1134 -information Return Relating to controlled and Non-Controlled Foreign Affiliates. In addition to a Canadian credit bureau report.